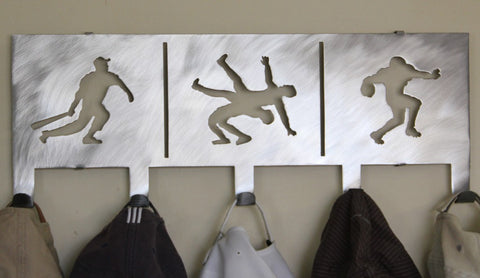 Baseball Hat Rack: Personalized Multi Sport Hat Rack: Baseball Hat Holder
 Wow !!!! A picture of this eye catching Baseball Hat Rack says it all. This 24'' x 12 '' Personalized Hat holder  is worth every penny. You can choose up to any three sport styles for that one of a kind hat rack.
We offer a full line of Medal displays with  hundreds of design combinations for all our hat racks, medal holders, picture displays and trophy shelves that can be ordered in a variety of styles, sizes and for all sports,  that all can be personalized with a name, nickname, logo and made with male or female clip art images of your choice. All our medal displays come with 1'' stand off concealed mounting.
Product size 24'' x 12''
Color Shown: Brushed Steel
We send you a design preview per your online order or your phone order for your review and approval before your order is cut. Make sure to add any special instructions to customize your design in the note box at checkout or with a follow up email through our contact form or give us a call @ 559-323-2155
---
We Also Recommend