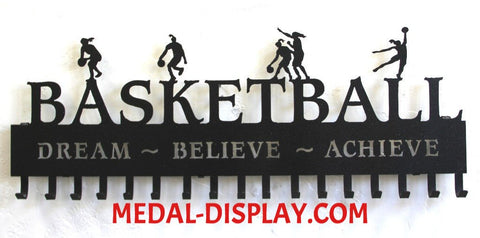 Basketball Medal Display: Personalized Basketball Medals Holder: Medals Hanger
 A picture of this Basketball Medal Display Rack says it all.  It is worth every penny it showcases an Athlete's Awards and Medals Earned at Tournaments and events over the Years.
We offer a full line of Medal displays with  hundreds of design combinations for all our medal holders, picture displays and trophy shelves that can be ordered in a variety of styles, sizes and finishes, all can be personalized with a name, nickname, logo and made with male or female  images of your choice.
  Make sure you note at check out note box your sport style, and any special instructions.\
All our medal displays come with 1'' stand off concealed mounting and can be ordered with hooks or a bar  to display medals. Our trophy shelves do not include the wood shelf, you can purchase at any hardware store and stain to match your décor
Color Shown: Satin Black
We send you a design preview per your online order or your phone order for your review and approval before your order is cut. Make sure to add any special instructions to customize your design in the note box at checkout or with a follow up email through our contact form or give us a call @ 559-323-2155